Setting Things up
Installation - Get Cerberus X Running on your Development Machine
Before diving into the creation of your own games and apps you need to install Cerberus X on your development Computer (Windows, macOS, Linux). Don't worry, it's as easy as one two three, if you are using one of our official releases on itch.io
Note: After this initial installation you can only build and run your game in a browser using the Html5 Target. For all the other platforms available you need to set up your system like described in the section below.
Installing the Easy Way - Official Releases
This is the recommended way of installing Cerberus X.
Download the release package from our download page on itch.io
On Windows and Linux you simply unpack the zip-package. On macOS you double-click on the .dmg-package and follow the standard installation process.
Launch "Cerberus" in your installation folder and have fun coding your first game.
The only thing required to run your app now is a recent browser like firefox, safari, chrome or internet explorer, which is usually installed by default on most computers nowadays.
Trouble Shooting and Building from Source
If you want to build Cerberus X from source you can do so by using the following instructions:
Setting up Platform Targets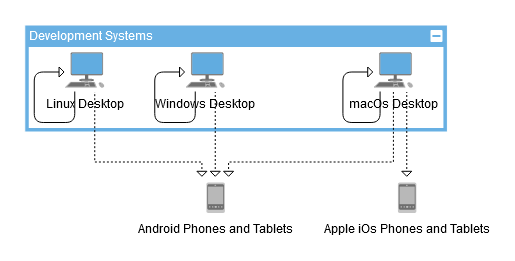 Cerberus X ships with the HTML5 Target ready to use. If you want to deploy your game on one of the other target platforms, it is necessary to install the freely available Software Development Kit (SDK) for that specific target. Whenever you are building your game with Cerberus X, these SDKs are used under the hood to create your runnable game as a native application.
Information on how to customize settings for each target can be found under Target Configuration.
Here you will find step by step guides on how to set up your development system to build your games for each of the available target platforms:
Deprecated Targets